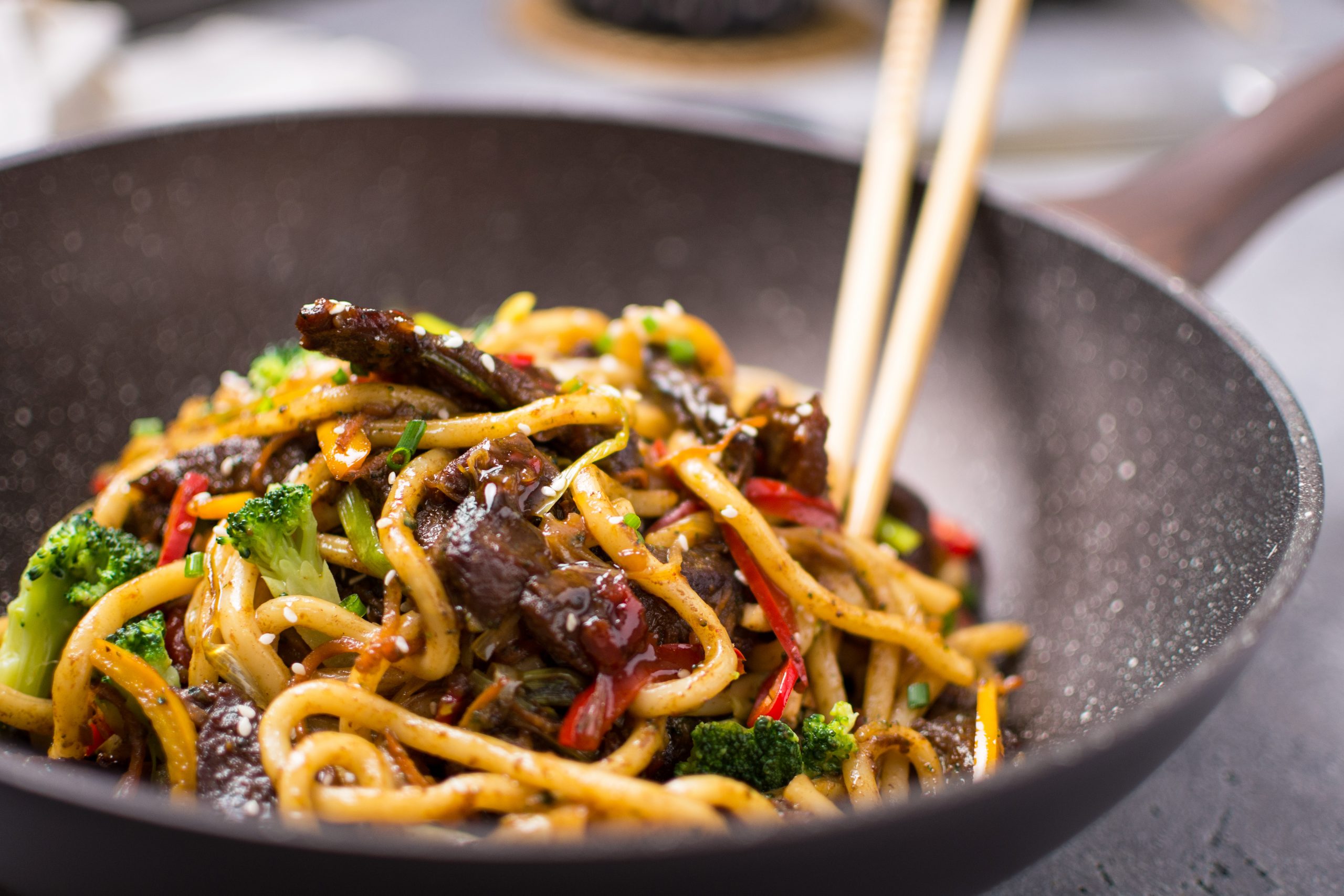 A simple stir fry recipe using the lesser known bavette steak cut.
Marinade
1 tsp sesame oil 

400g Bavette steak – sliced in strips

1 tbsp soy sauce
2 tbsp oyster sauce
1tbsp garlic – finely grated

1tbsp ginger – finely grated

Pinch of salt & pepper 
Stir Fry
1 tsp sesame oil
1x red onion – slice
200g broccoli – florets sliced lengthways

1x red chilli (or more) – sliced

Reserved marinade

Pack of Udon Noodles (if dried prepare as per instructions)

4x Spring onions – finely chopped
1. Cut the Bavette steak into thin strips (across the grain).
2. Combine the sesame oil, soy sauce, oyster sauce, garlic, ginger, salt & pepper in a medium size bowl. Add the steak strips and marinate for a minimum of 30 mins, this can be done the night before and refrigerated for the best results. 
3. Remove the beef marinade from the fridge 20mins before cooking, scrap off as much of the marinade as possible and reserve. 
4. Add a drizzle of sesame oil and fry the beef strips in a wok at a high heat for a couple of minutes until nicely seared but still pink, remove from the work and set aside. 
5. Add another drizzle of sesame oil to the wok if needed and fry the red onion, broccoli and red chilli for a few minutes until softened. 
6. Return the beef strips and reserved marinade and toss to ensure an even covering. If needed add a further 1-2 tbsp of oyster sauce. 
7. Add noodles, toss again and serve. 
8. Finish with a scattering of finely chopped spring onion.