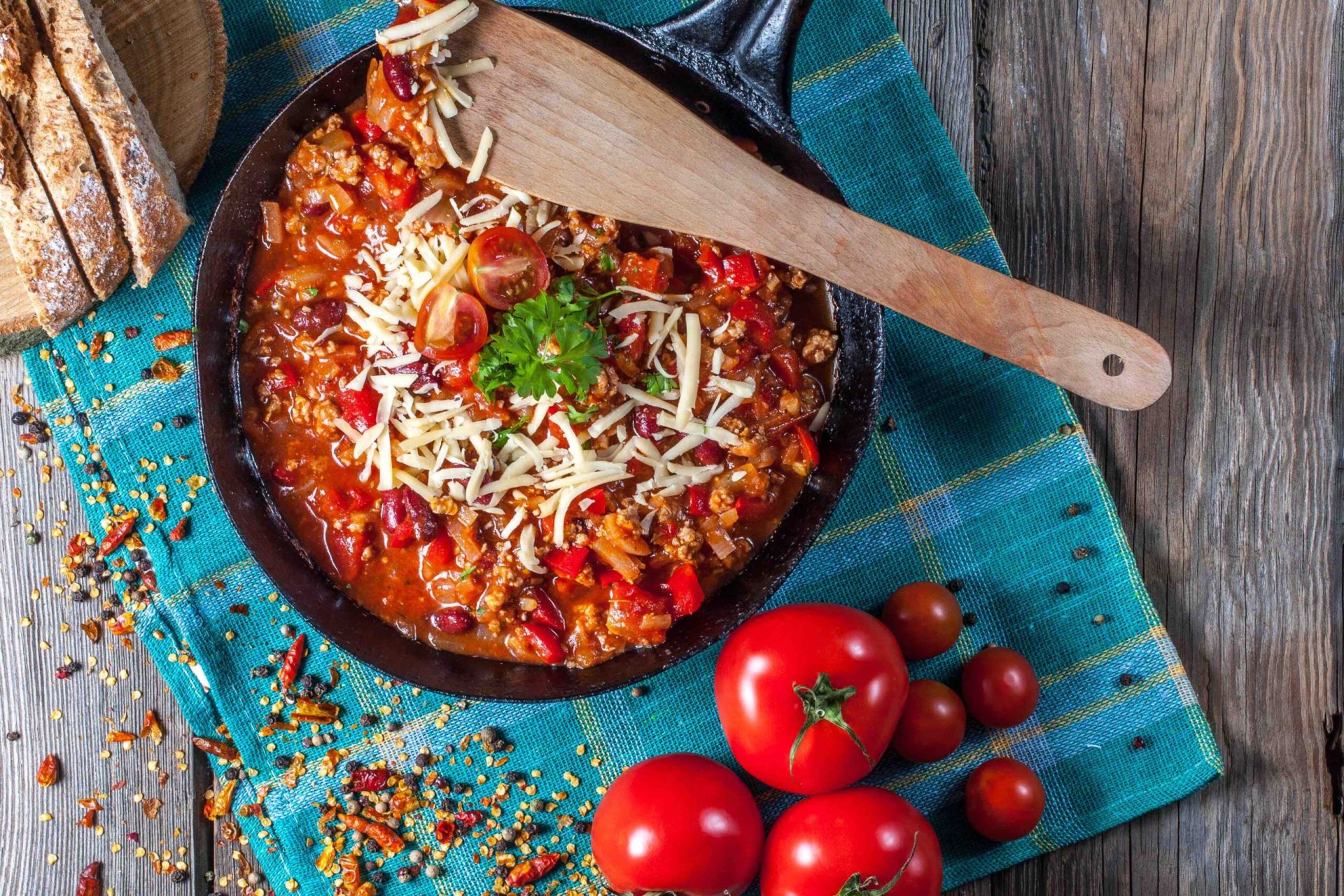 Chilli Con Carne is an incredibly versatile dish and perfect for a late summer supper.
It works with rice, tacos, wraps, baked potatoes, in soft rolls (Sloppy Joes), over fries (Coney Island Fries) or even as a topping on a chilli dog. 
It's roots stretch back over 500 years to the former Aztec capital Tenochtitlan (now the location of Mexico City). The addition of beef came from the Spanish conquistadors with versions of the modern day dish first recorded from the 1850s onwards. Like many dishes from northern Mexico it's popularity spread into Texas with migrant workers and by the late 1890s the dish began to appear in 'Chilli Parlours' throughout the US. In 1977 the Texas legislature designated it the official state dish.  
There remains some dispute over what is considered 'authentic' chilli – beans and tomato being the main points of contention. Purists state that beans and tomato are a no-no, however many believe that these additions have been around for so long that they are now considered 'authentic'. For us it is beans and tomato all day long! 
The one area where we do agree with the Texan chilli fanatics is that it should be made from cubes of beef, not mince. Classic Texas chilli would call for diced brisket but we also think onglet, ox cheek or even bavette would work particularly well due to the amazing textures – or even a combination of two cuts.
As with many things in life it tends to improve with age, so a second serving a day or so later tends to be better. It's worth making in batches and freezing down as a quick versatile freezer option. 
Finally if a little dry add some water/stock, to wet reduce a little further. Feel free to play around with the quantities of spices. 
Serves 8
1kg diced brisket, onglet, ox cheek or bavette steak
Olive oil
Salt & pepper
2x onion, diced
2x bell pepper, diced
5x garlic cloves, finely chopped
1.5x tsp chilli powder (from mild to fiery hot depending on taste)
1.5x tsp cumin
1.5x tsp ground coriander
1.5x tsp smoked paprika
2x tsp muscovado
1x tsp oregano
2x beef oxo cubes, crumbled
1x 400g tin of chopped tomatoes
2x tbsp tomato puree
400g tin of kidney beans
1x tbsp plain flower
Splash of Worcestershire sauce
Bunch of fresh coriander, chopped
Optional ingredients – chocolate (70-80% cocoa) or fresh coffee – both add to the depth of flavour.
Heat a glug of oil in a medium sized casserole dish and fry the onions until softened. Add the garlic and the peppers and fry for a further 2 minutes.
Add the beef until seared all over.

 

Mix in the spices/flour and cook for a further 2-3 minutes.
Then add the oxo, chopped tomatoes, kidney beans, tomato puree, sugar and splash of Worcestershire sauce. Bring up to a simmer and cook for 2 hours.

 

Finally add chopped coriander and cook for a further 5-10 minutes.

 

Serve over your choice of base (rice, tacos, baked potato, fries, roll, hot-dog) and top with sour cream and further fresh coriander.