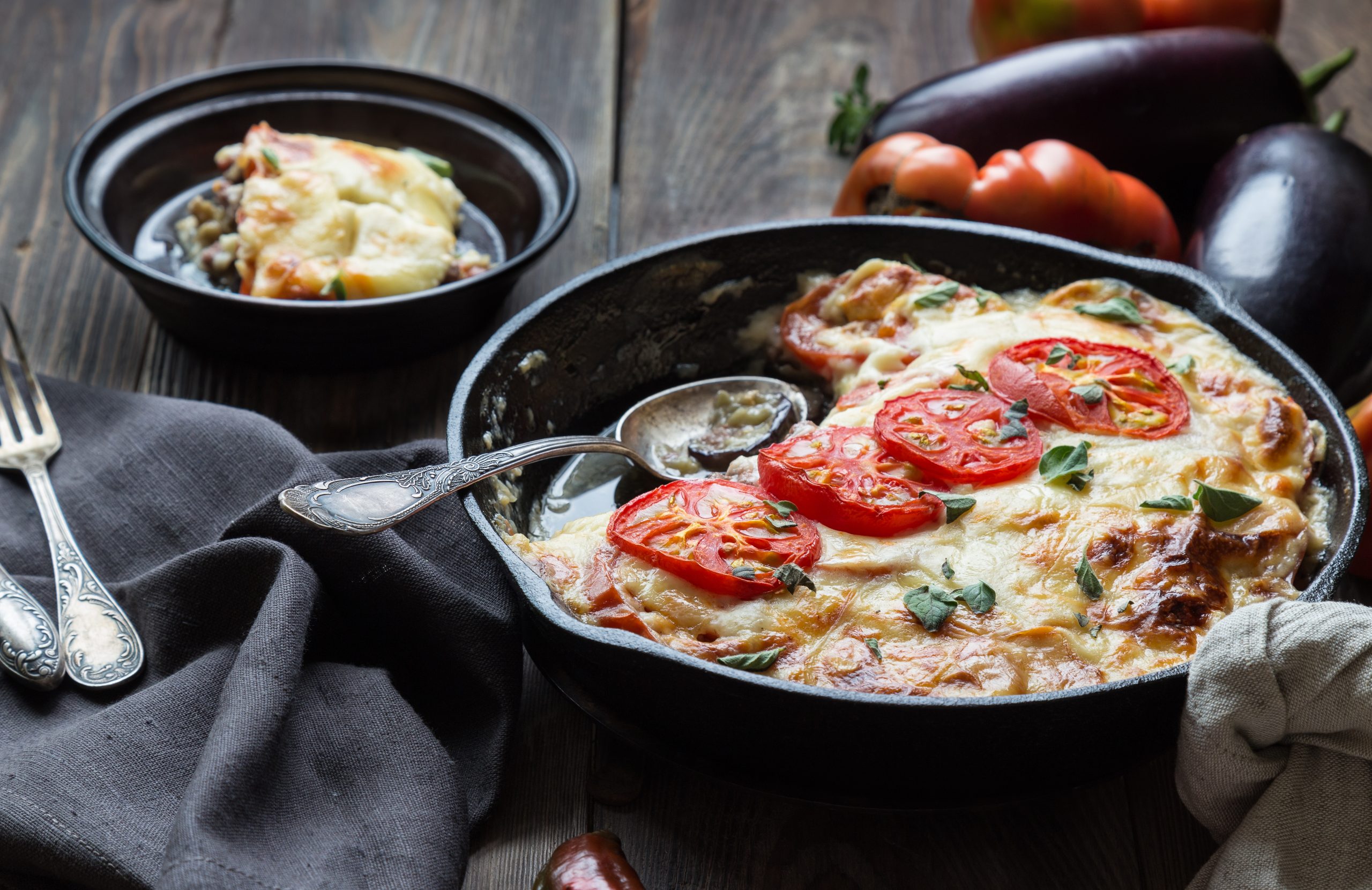 A classic moussaka is right up there in terms of our favourite comfort food, perfect for these challenging times.
Although we tend to recognise it as a Greek dish, the name is actually Arabic (musaqqa'a), meaning 'that which is fed liquid', and variations can be found across the Levant, Middle East and the Balkans.
Moussaka is all about the aubergine, however due to circumstances and the potential for a lack of availability you could substitute for sliced potatoes and any other available veggies. If using aubergine bake them for 20mins instead of frying and they will suck up a lot less oil.
Serves 4
500g minced lamb
Olive oil
3x aubergines, sliced (about 6mm thick)
1x onion, finely chopped
4x garlic cloves, finely chopped
1x cinnamon stick (or 1 tsp of ground)
1x tsp dried oregano
300ml passata (or tin of chopped tomatoes)
2x tbsp tomato puree
150ml red wine
25g parmesan (to top)
1x tomato, sliced (to top)
For the béchamel sauce
50g butter
50g plain flour
400ml whole milk
1x small onion
1x bay leaf
12x peppercorns
25g parmesan, finely grated
2x egg yolks, beaten
Salt & pepper
Pinch of nutmeg (or a fine grating if using whole)
1. Brush aubergine slices with olive oil, season and pop in the oven on a tray for 20 mins. Set aside.
2. In a large pan fry off the onion until softened, add the garlic, cinnamon and oregano and cook for a few minutes.
3. Break up the lamb mince and add to the pan, keep it moving until brown all over.
4. Add the passata or chopped tomatoes, puree and red wine and simmer for 30mins (if still quite liquid reduce a little further).
5. For the béchamel combine the milk, onion, bay leaf and peppercorns in a pan, bring to the boil and turn off, leave to infuse for 20 mins.
6. Melt 50g of butter in a pan, add the flour and stir continuously until it forms a roux.
7. Remove the onion, bay and pepper and add the milk slowly to the roux, stirring continuously until thickened. Combine the nutmeg and parmesan, then take off the heat and allow to cool a little. Combine the egg yolks and season to taste.
8. Now to build the dish. Arrange a layer of the aubergines in the bottom of a oven dish, add a layer of the lamb mixture on top, continue this layering and finish with a layer of aubergine. Top with the béchamel sauce, sprinkle over the parmesan and add a line of sliced tomato down the middle. Pop in the oven (170°C) for 40 minutes until nicely browned on top.
Serve with salad leaves and a chunk of crusty bread.