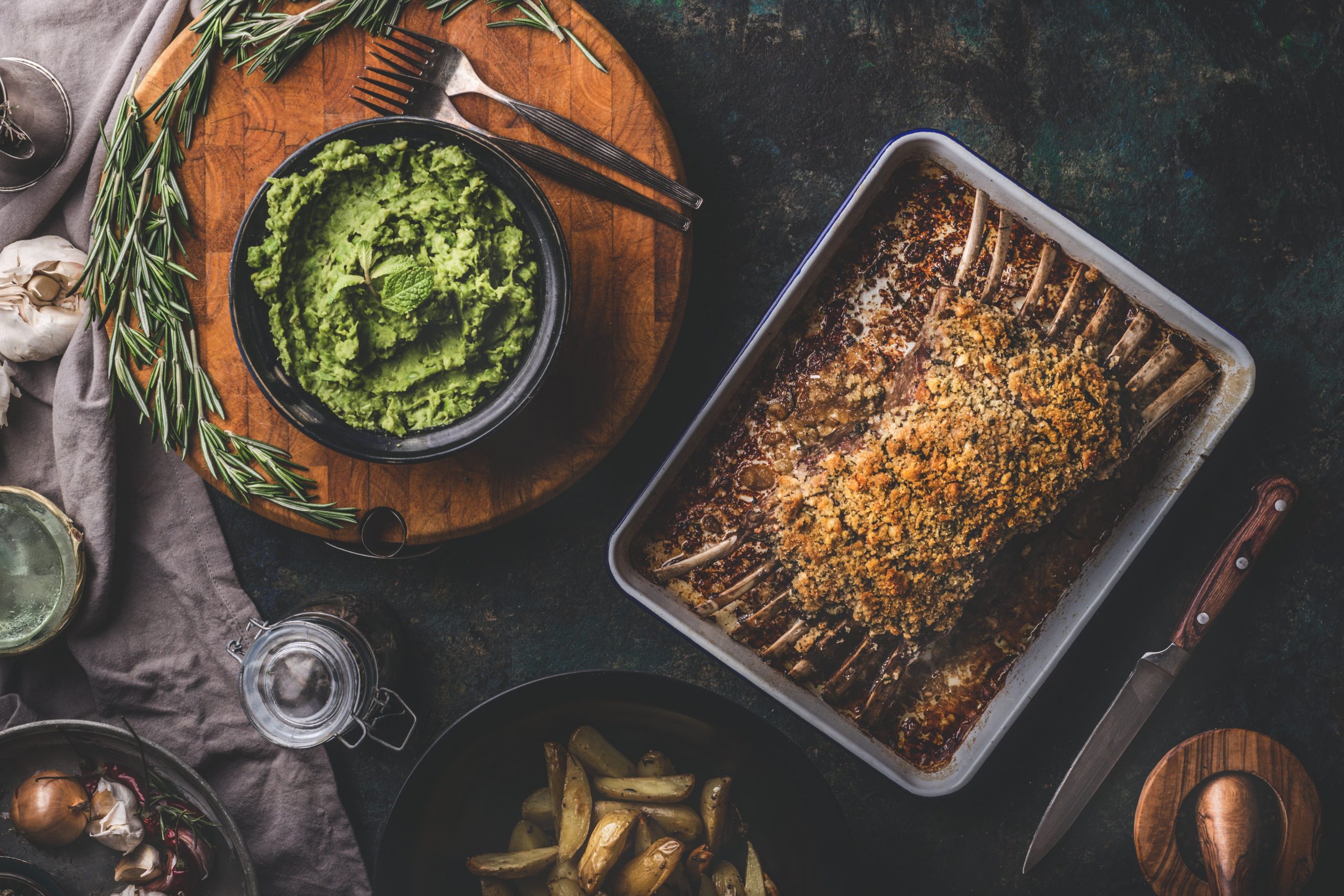 With the arrival of sunshine-filled days and Easter soon upon us here is our take on a spring inspired herb-crusted Rack of Lamb.
The rack is considered one of the finest lamb cuts. With its tender and delicate flavour it benefits from a short cooking process apposed to a longer roast that you would expect with more robust cuts such as leg and shoulder.
Adding a herb crust is a great way to impart some vibrant spring flavours as well as adding extra texture to the dish. Fresh herbs such Chervil and Tarragon work particularly well, however due to reduced availability we have gone for a simple parsley-thyme-rosemary combination.
Alternatively you could use a gentle mix of spices, although be careful not to overpower the delicate flavour of the lamb.
Serves 4
2x racks of lamb (500g each)

Small bunch of parsley, roughly chopped

2x sprigs thyme, finely chopped

1x sprigs rosemary, finely chopped

1x large garlic clove, finely diced
1. Combine the breadcrumbs, herbs, garlic, parmesan and a little olive oil. Set aside.
2. Heat a large pan and sear the the racks on all sides.
3. Coat the fat side of the racks with mustard and then rock back and forth in the breadcrumb-herb mixture until a nice thick coating. Turn the racks over and fill any gaps with any excess mixture.
4. Transfer to the oven (180°C) for 10-14 minutes* or until the middle hits 55°C for perfect pink lamb.
5. Remove from the oven and rest for 10 minutes. Then very carefully/gently cut between the bones into individual cutlets.
6. Serve with some pea and mint mash and/or spring vegetables and some crisp roast potatoes.
*Oven temperatures and size of racks vary so adjust accordingly. We recommend using a temperature probe such as the Meater to achieve very accurate, consistent cooking (more about that to come in the next Block post).