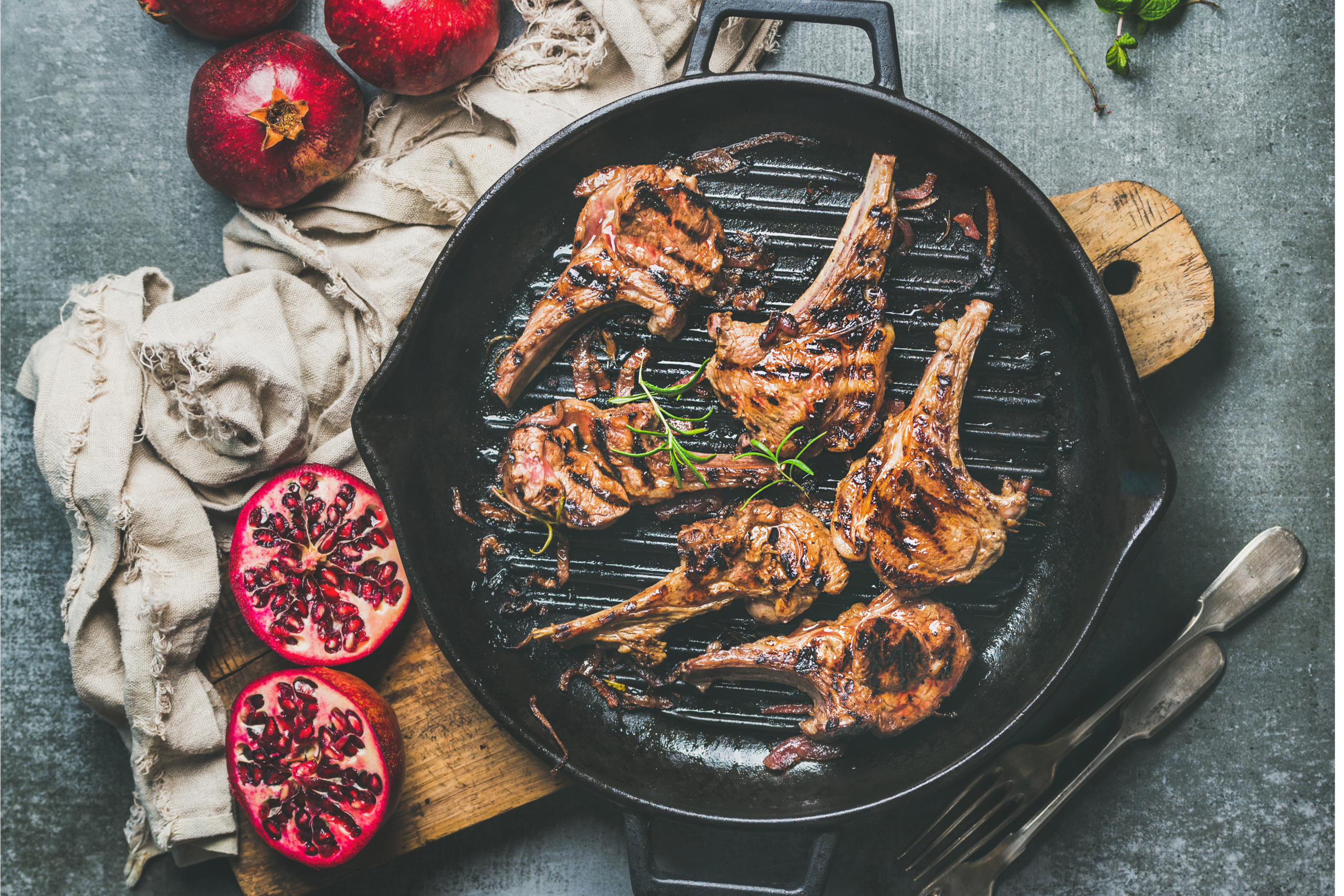 Harissa is a hot chilli paste that is often described as the national condiment of Tunisia.
Made from a mix of red peppers, Baklouti chillis, garlic and spices such cumin, caraway and coriander, it's fiery Maghrebi blend is the perfect accompaniment to lamb, hogget and mutton.
We have gone for lamb cutlets but it will work well with lamb rumps.
Paired with some Harissa yoghurt and couscous this is a relatively quick and simple dish.
If you like it a little less spicy, you could drop the harissa from the yoghurt and have it as a cooling dip or dressing.
Serves 2
Lamb Cutlets
6x lamb cutlets (approx 600g)
1 tbsp of harissa paste
Few glugs of olive oil
Harissa Yoghurt
150ml of Greek yoghurt
1 tsp of harissa paste
1/3 cucumber, grated
Couscous
100g of couscous
200ml of chicken stock
Olive oil
Salt & pepper
4x tbsp fresh coriander, roughly chopped
1/2 lemon, zest only
50g pomegranate seeds
Cover the lamb cutlets in the harissa paste and place in a freezer bag with a few glugs of olive oil. Pop in the fridge over night (or at least a couple of hours before cooking).
Remove the lamb from the fridge 20 minutes before cooking to allow to come up to room temperature.
Whilst you are waiting for the lamb grate 1/3 of a cucumber and combine with the greek yoghurt and harissa paste. Cover and set aside.
Add the couscous to a pan or bowl and add the stock, cover with clingfilm for 5 minutes.
Combine the couscous with a glug of olive oil, coriander, lemon zest and pomegranate seeds. Season. Set aside.
Fire up the barbecue or a large frying pan and grill the cutlets for 3-4 minutes on each side depending on the thickness.
Serve on a bed of the couscous with the harissa yoghurt as a dressing or a side.