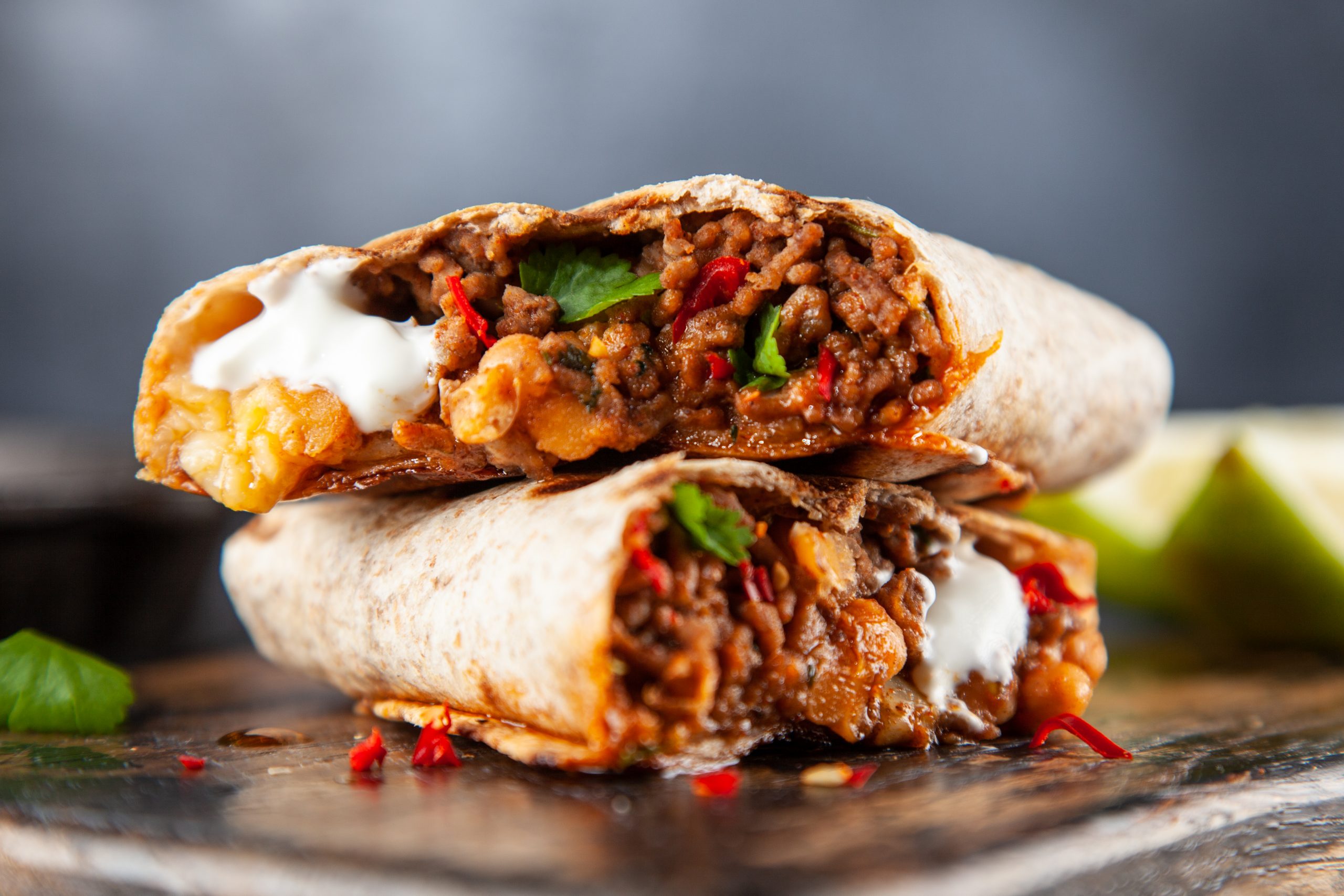 Burritos are a interesting way to liven up some minced beef and a great alternative to regular staples such as Bolognese and Cottage Pie.
The majority of the burritos you will find in UK and US outlets are of the Tex-Mex variety, fusion cuisine from the southern US states where Mexican immigrants adapted dishes using local ingredients to US tastes. And to a certain extent burritos now encompass any filling wrapped in a flour-based tortilla, whether that be a full English breakfast, chicken, lamb etc.
There are various stories about their humble origin, including the one of the man who used to transport them to workers using his donkey (burrito translates as little donkey) but we do know they originated from Ciudad Juárez in northern Mexico around the turn of the 20th century. The traditional core of the dish is a mix of minced or shredded beef with refried beans, wrapped in a flour-based tortilla. More recent additions/extras include tomatoes, cheese and shredded lettuce.
Our favourite variation is one that comes from San Francisco's Mission District, known as the Mission Burrito, a larger tortilla filled with extras such as rice, guacamole and pico de Gallo, wrapped in foil to hold it all together. So here is our take…
Serves 4
Olive oil
4x large flour tortillas
400g refried beans
500g minced beef
Salt & pepper
1x onion finely chopped
3x garlic cloves (finely diced)
2x tsp cumin
2x tsp ground coriander
1x tbsp dried oregano
2x tbsp tomato puree
Splash of water
300g cooked rice
Bunch of fresh coriander, roughly chopped
1-2 fresh chillis, finely sliced
And a choice of Pico de Gallo, lettuce, chopped tomatoes, cheese, lime yoghurt, sour cream, guacamole (or all of them!).
1. Refried Beans – to save time you can buy reasonably good quality ready made packs – look for Grand Luchito & Capsicana brands. Simply reheat. Other wise just cook off a 400g tin of pinto beans (or similar) in 50g of lard, add some chipotle chilli powder, cumin, ground coriander. Retain some of the bean water and use to loosen if a little stiff. Set aside.
2. Fry the onions in a large pan or wok until softened.
3. Break up the minced beef, add to the pan and cook until until browned all over.
4. Add the garlic, cumin, ground coriander, oregano, tomato puree and cook for a further 3-4 minutes.
5. Depending on the consistency add a splash of water to loosen.
6. Stir in cooked rice and warm through.
7. Wrap tortillas in foil and pop in the oven (200°C) for 5-7 minutes.
Wrapping the Tortilla
Key is not filling above the centre line – see tutorial here.
1. Lay down the refried beans horizontally below the centre line of the tortilla.
2. Top with the beef/rice mixture.
3. Scatter some coriander and chilli on top
4. Add your choice of toppings and wrap.
5. For an authentic serving wrap in foil.