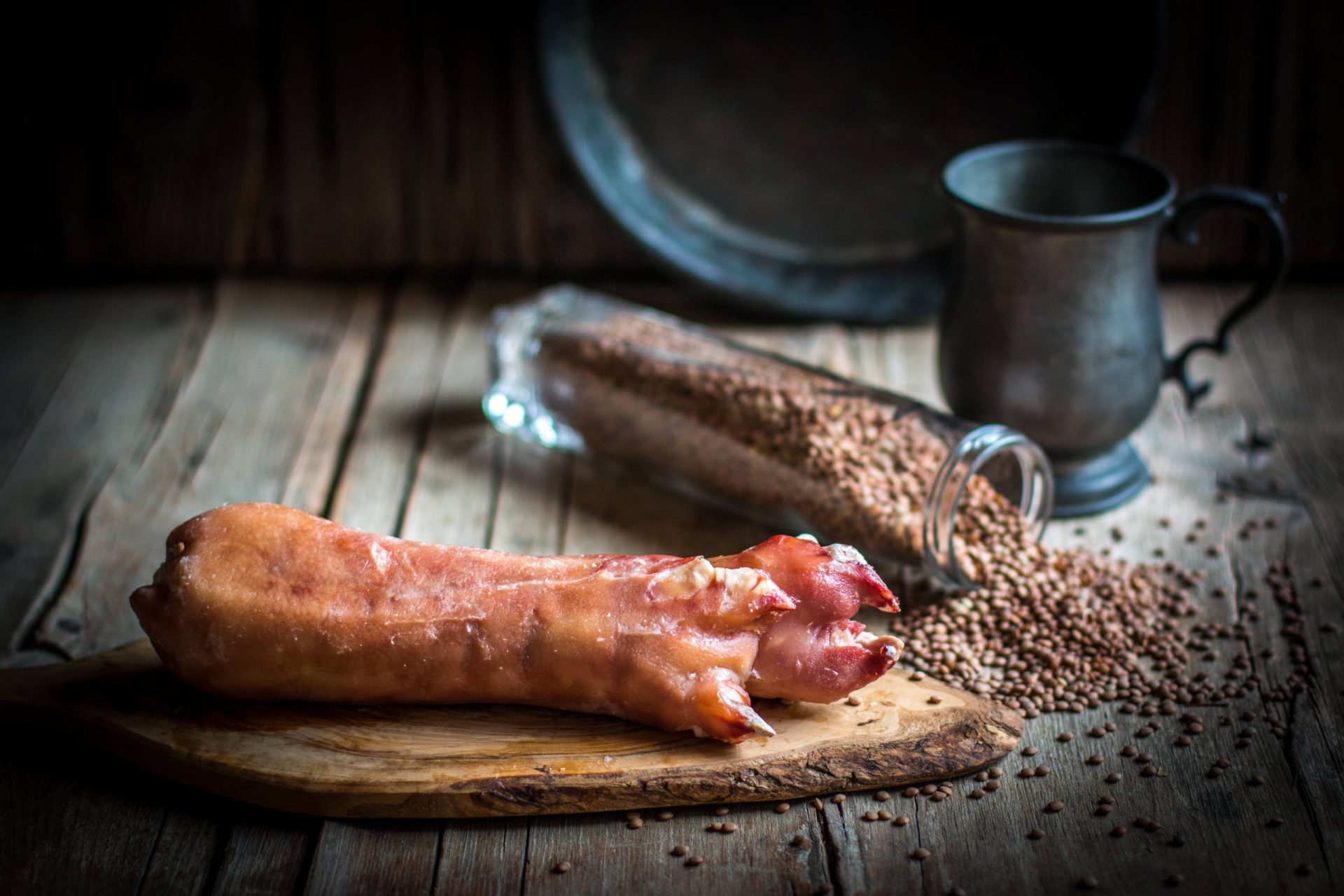 Pigs trotters, once a humble, thrifty cut were elevated to culinary super-stardom by Pierre Kaufmann during the late 70s.
Although Kaufmann made them a star of modern cuisine, the Italian Zampone di Modena can be traced back to 1511 and the siege of Mirandola, where they came up with the idea of stuffing the skin of the legs to preserve the meat to see out the siege.
So we have come up with a recipe that draws from both traditional Zampone and Kaufmann's modern classic, with a dollop of British mash and gravy about it.
We've gone with Kaufmann's lighter veal stock, but our punchier version would take a full beef stock.
Serves 4
Stuffed Trotters
4x hind trotters (boned – add a note to your order)
Knob of butter
1x onion, finely chopped
2x garlic cloves, finely chopped
400g minced pork
150g black pudding, diced
2x tsp fennel seeds, crushed
2x tsp oregano
1/2 tsp chilli flakes (or to taste)
1/2 tsp allspice
Salt & pepper
Cooking Stock
1x onion, chopped
1x carrot, chopped
150ml dry white wine
600ml of veal stock (or beef if not available)
Salt & pepper
50ml Madeira (or port)
Knob of butter, cubed
Add the trotters, onion, carrot, wine, stock and salt & pepper to a large casserole dish, cover and cook in the oven for 3 hours. Top up with extra stock if needed.
For the stuffing heat a knob of butter with a dash of olive in a pan, fry off the onions until softened, then add the garlic and cook for a further 2 minutes. Set aside to cool.
Mix the cooled onions an garlic with the pork mince and black pudding and add the spices, season with salt and ground pepper.
Remove the trotters from the cooking stock, retain the stock for the sauce.
Once the trotters have cooled split the stuffing between them and then roll the skin around to form their original shape. Roll each trotter in tin foil to form a tight cylinder shape. Place in the fridge for a minimum of 2 hours.
When ready to cook the dish remove the trotters from the fridge and steam, still wrapped in foil, for 15mins.
Meanwhile pour the cooking stock through a sieve, you need at least 350ml, skim off any excess fat, add the Madeira, and reduce to a rich sauce/gravy. Whisk in the butter and season to taste.
Serve with buttery mash potatoes.