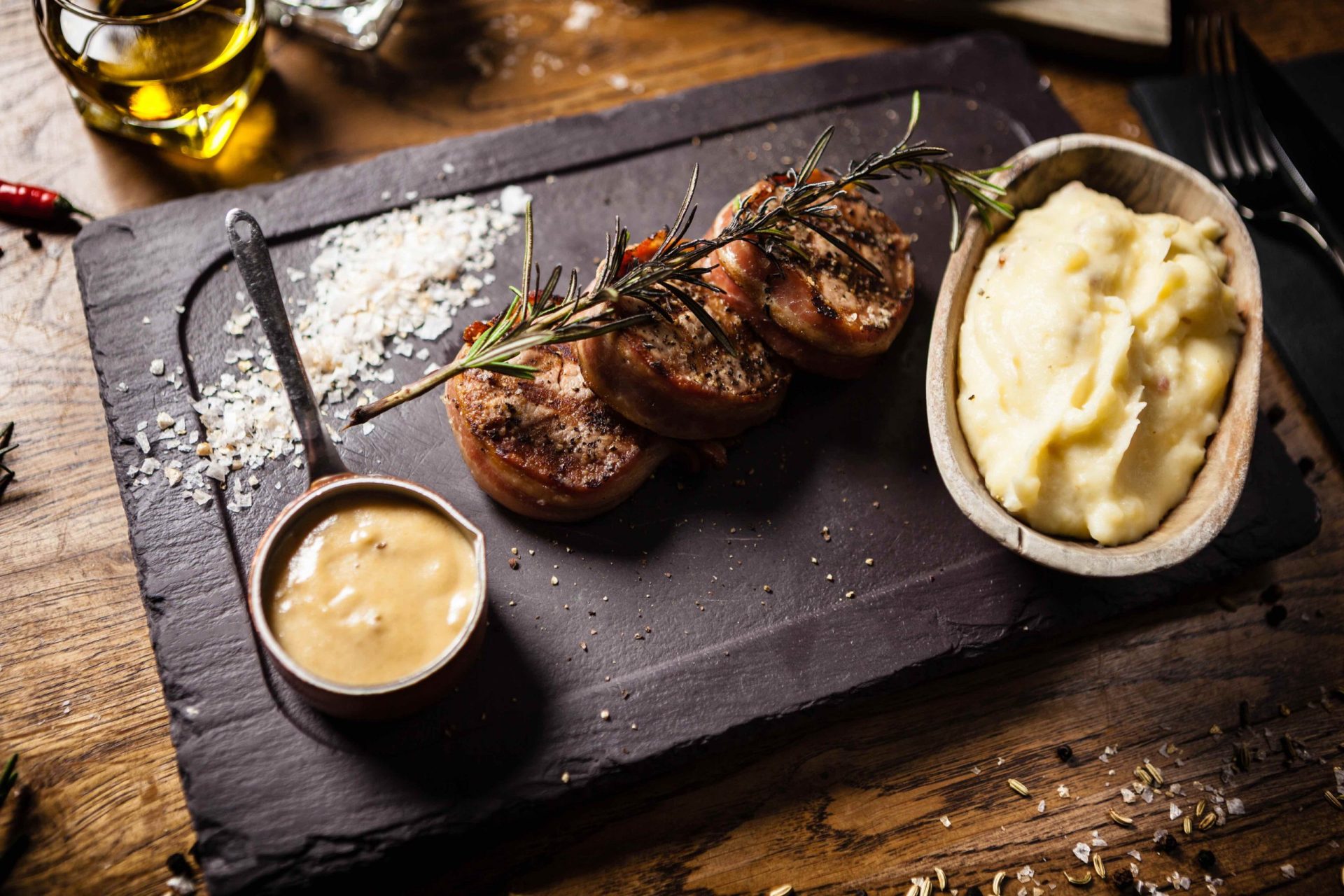 Tenderloin with fennel, crispy salty pancetta and mushroomy marsala is a match made in heaven.
Tenderloin with fennel, crispy salty pancetta and mushroomy marsala is a match made in heaven.
Pork is often treated as the poor relative of the beef and lamb. Not with this dish. Nail the pork and this is a real winner.
We are deep into summer so we have gone for a lighter chicken stock, but feel free to beef in up in the cooler months.
As usual play around a little, particularly the sauce.
Serves 2
Tenderloin
400g Pork Tenderloin
1x pack of thinly sliced pancetta
2x garlic cloves, chopped
1x tbsp rosemary, finely chopped
1x tbsp fennel seeds, crushed
Salt & pepper
Glug of olive oil
Masala Sauce
Dash of olive oil
50g of butter
25g flour
Salt & pepper
1x shallot or onion, finely chopped
2x garlic cloves, finely chopped
150g chestnut or button mushrooms, sliced
150ml dry marsala wine
300ml chicken stock
For the tenderloin blitz the garlic, rosemary, fennel and olive oil into a paste, season.
Lay a layer of cling film on the work surface, lay the pancetta strips down, over lapping slightly, the same width as the tenderloin.
Cover the pancetta with the paste and then lay the tenderloin horizontally across the pancetta.
Roll up to make a tight sausage, twist the ends and pop in the fridge. You can do this well ahead of the cooking time.
Add a dash of olive oil and butter to a pan, cook off the shallot for a few minutes and then add the garlic for a further few minutes.
Add the mushrooms and cook until softened, then add the flour and cook off for a few minutes.
Pour in the marsala and reduced by about half and add the chicken stock. Allow to simmer until reduced to enough to coat the back of a spoon. If too thick loosen with some more stock and/or butter.
Heat the olive oil in a large pan and sear the wrapped tenderloin until browned all over. Transfer to the oven at 180°C, aim for a rest internal temperature of 74°C (about 20mins +rest).
Slice into 30-40cm medallions and serve with the marsala sauce on the side, buttery mash and a selection of summer vegetables.