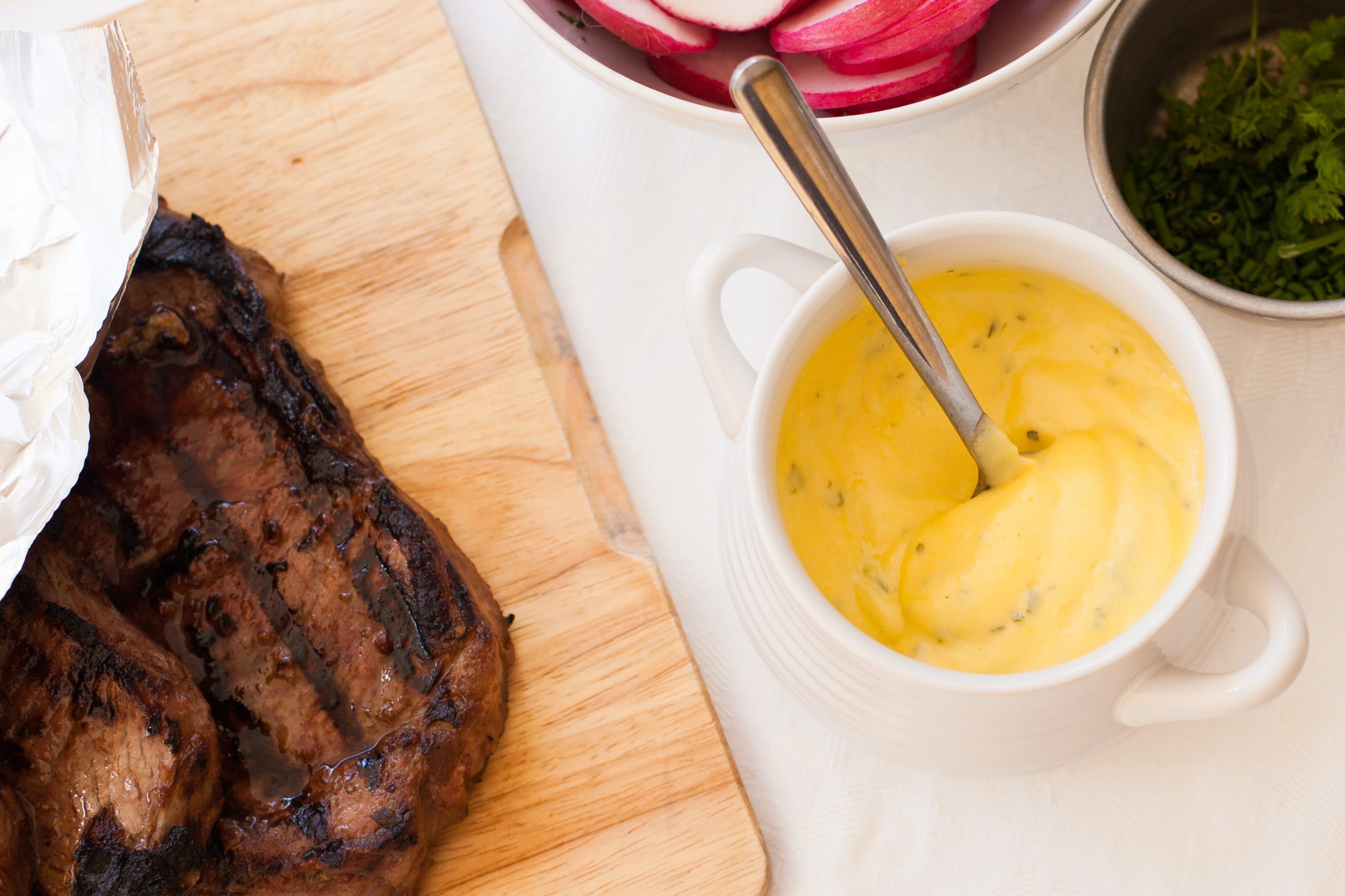 A dry-aged rump paired with a classic Béarnaise is a match made in heaven.
In terms of true beefy flavour the rump is top of the class. Taken from the top of the hindquarter, it's a hard working muscle, but relatively lean and great value.
Not all steaks take a sauce, but the rump's strength of flavour ensures it cuts through, and the perfect accompaniment is the classic Béarnaise.
Thought to be accidentally invented by chef Jean-Louis Françoise-Collinet and served at the opening of Le Pavillon Henri IV in 1836, Béarnaise is an icon of French cuisine. It is very similar to Hollandaise (considered it's sibling) but with the addition of tarragon.
It's tricky to perfect but well worth the effort.
Careful not to split the sauce – if it is going a little greasy looking, add a drop of cold water to bring it back.
Serves 2
Steak
1x 600g extra thick Isle of Wight sharing rump steak
Salt & pepper
Béarnaise
2x shallots
2x tbsp white wine vinegar
1/2x lemon, squeezed
3x egg yolks
200g clarified butter
3x tbsp tarragon
1x tbsp chervil (optional)
Salt & pepper
To cook the perfect rump steak follow our guide here.
Pop a pan on a medium heat, add the shallots, white wine vinegar and about half the tarragon and reduce by half. Strain and set aside to cool.
In a bowl over hot water whisk in the egg yolks into the cooled reduction along with 3 tbsp of cold water, and slowly increase the heat. Whisk until the consistency coats the back of a spoon. Don't allow it to get too hot or it will split.
Remove from heat and very slowly pour in the butter, whisking continuously.
Once combined add the remaining tarragon, chervil (if using), lemon juice and season to taste.
Serve with chips.