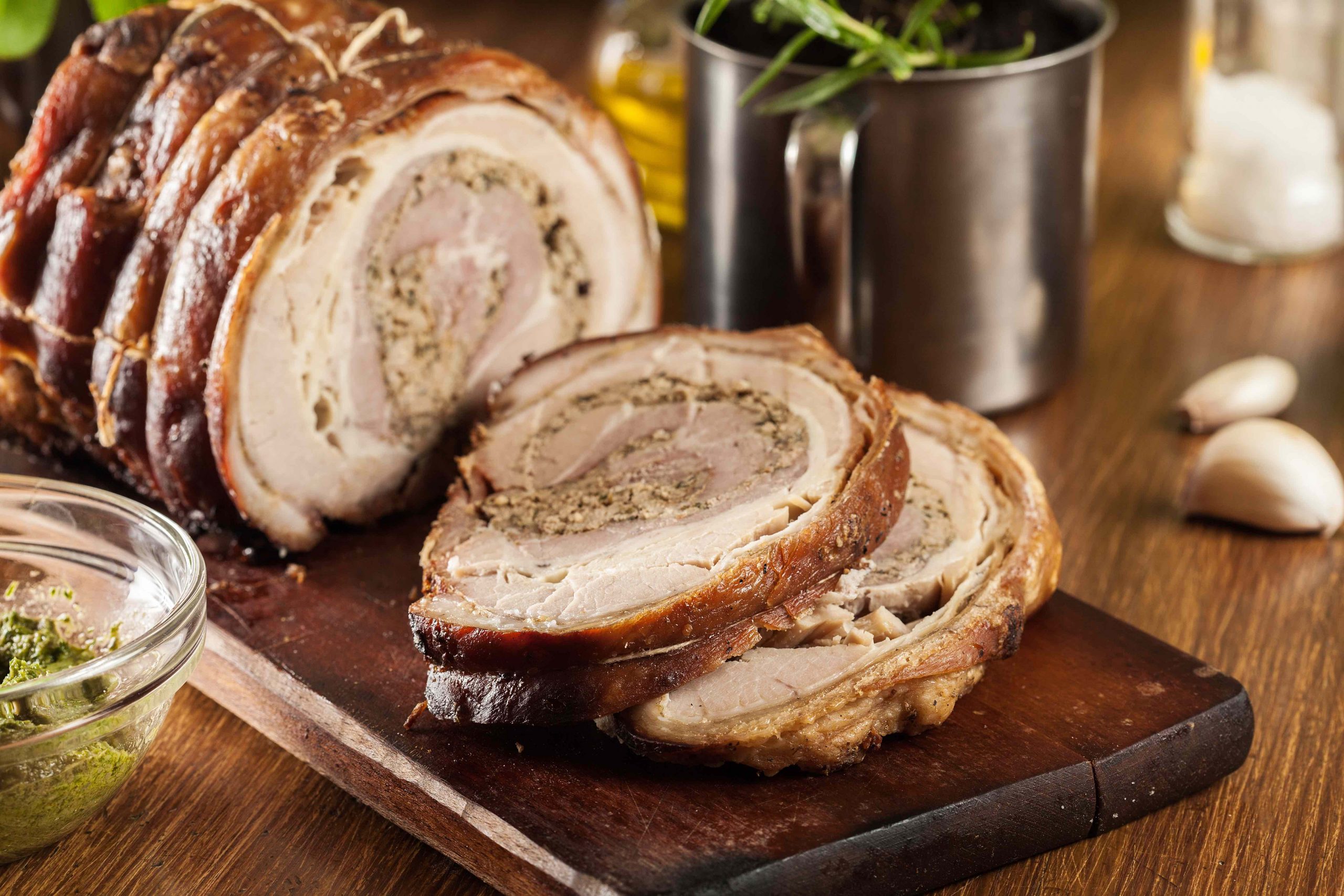 Porchetta done well is a show-stopper. Think hog-roast turned up to 11.
It is a classic rustic Italian dish that you will find being served at any celebration or local fare across Italy. Each region or even village has it's own take or variation so there is no definitive recipe.
Although a traditional porchetta is a truly nose-to-tail affair, made using a whole suckling pig, including the offal and stuffed with a range of fresh herbs. With a limited supply of Isle of Wight suckling pigs we have gone for the more common take using both the belly and loin from a regular pig.
In terms of herbs, fennel is the hero here, the key flavour in the Umbrian version of the dish. Rosemary and thyme are also popular and work well alongside the fennel.
Serve as the centre piece of a home-cooked Sunday lunch, or as we prefer, use it as a filling in some soft doughy white rolls.
Serves 8+
2-3kg Pork Belly & 600g-1kg Pork Loin or 3-4kg combined belly/loin.
Wight Salt & pepper
1x whole head of garlic, peeled & crushed
1tbsp fennel seeds
1tsp chili flakes
2x sprig of rosemary, leaves removed & finely chopped
2x sprig of thyme, leaves removed & finely chopped
1x lemon zest
Glug of white wine
250ml of chicken stock
1. Toast the fennel seeds and chilli flakes in a dry pan for a couple of minutes.
2. Place the fennel, chilli, garlic, herbs, zest, a pinch of salt & pepper and wine in either a small spice blender, food processor or failing that a mortar and pestle, to form a paste.
3. Score the belly skin at 2cm intervals in a diagonal pattern.
4. Lay the belly skin-side down and rub the paste into the belly/loin. Roll up and tie using butchers string (or just regular string). Pop in the fridge for 24hrs.
5. Remove pork from the fridge 1hr ahead of cooking. Heat the oven to 150°C.
6. Season the skin with sea salt. Place on a rack in an oven tray, add 250ml of stock, cover in foil and roast for 4hrs. Keep an eye on the stock level and top up if running a little dry. Aim for around 62°C internal temperature.
7. Crank the oven up to 220+°C and cook for a further 30 mins or until the skin is nice and crispy.
8. Remove from the oven and rest for 20-30 mins.
Carve and serve with white rolls and apple sauce or the full Sunday lunch trimmings.