2020 British Farming Awards – Beef Innovator of the Year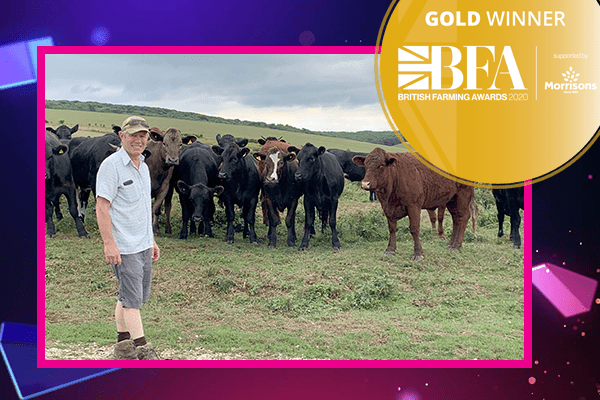 We won!!
PRESS RELEASE – 26/10/20
 ISLE OF WIGHT FARMER WINS BRITISH FARMING INNOVATION AWARD
 Andrew Hodgson of Cheverton Farm has been named Beef Innovator of the Year at the 2020 British Farming Awards.
During 2019 Andrew decided to transform his farming operation at Shorwell to supply the local market with Isle of Wight produced beef, lamb and pork. This included significant investment in a new state-of-the-art dry ageing and butchery facility.
The new plant now processes 400 local cattle, 1500 lambs and 250 pigs per year including stock from other Isle of Wight farms and smallholdings. The majority of the meat is sold under Cheverton's Isle of Wight Meat Co. brand through local butchers, pubs, restaurants, independent retailers as well as their own online shop and home- delivery service.
Andrew said 'shortly after launching the new venture Covid-19 hit and it meant restructuring the business overnight, which has been a significant challenge, but one we feel we have worked hard to achieve. Being recognised with a national award is fantastic news and will give us further confidence in growing the business to deliver high-quality locally produced meats from farm-to-fridge.'
The new dry-ageing and butchery plant has created eight new jobs at the farm as well as providing a facility to support other local businesses. 'Alongside the development of the Isle of Wight Meat Co our vision has been to provide an opportunity for other local farms and businesses and we are currently working with Norris Stores and Lady Acre Farm to establish a 'micro-local' supply chain where the farm and retailers are within the same village'.
Success for Cheverton Farm & The Isle of Wight Meat Co. has come hot on the heels of Briddlesford Farm's 2019 British Dairy Innovator of the Year Award. It seems that the Isle of Wight is leading the way for innovative farming.